Order a CD-ROM Copy of the Wheatstone Concertina Ledgers
You can buy copies of a CD containing the Wheatstone Concertina Ledgers website. The CD contains all the same information as the website at the time you order. If your connection to the internet is a slow telephone modem, you will find that using the CD is much faster; the content of the CD may also be copied to any hard disk for the best possible performance.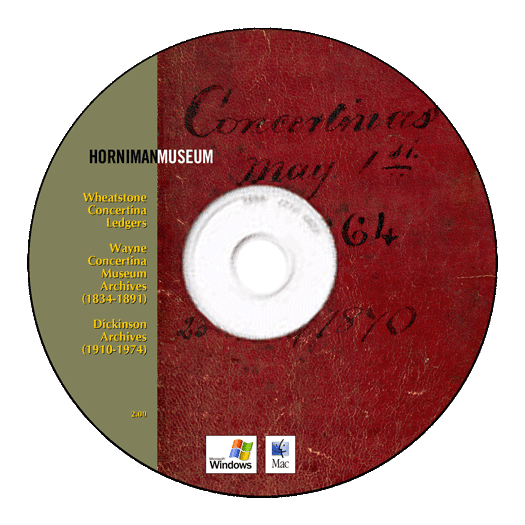 The CD will work in Windows or Macintosh computers equipped with a drive which will read CD-ROM disks (the drive may be called "CD", "CD-ROM", "CD-R", "CD-RW", "DVD", or many other labels--if you can use software distribution CDs in it, then you can use this CD).
To read the information on the CD you will use your web browser program. If your browser works properly to read these pages now (whether on the Horniman Museum website or on another copy of the CD), it will work the same way from the CD you receive. If your browser does not work properly to read these pages, you will need a free upgrade to a later version of your browser program.
Each CD costs USD $ 30.00, plus shipping to anywhere in the world, charged to your credit card over the internet. CDs in any quantity will be despatched promptly. If the online CD store is inconvenient, copies of the CD are also available directly from the Museum by post; please inquire for details of availability and costs for the CD and for shipping before ordering.
If your computer is currently connected to the internet, you can go to the online CD store by clicking on the first button below. Otherwise, click on the "Wheatstone & Co. Concertina Ledgers" button to go to the home page for the Wheatstone concertina ledgers, or click on the "Back" button to go back to the page you were last viewing.